Join our group of highly motivated people creating a new paradigm
We are hiring talented people in various roles across engineering, operations and research to join our team remotely or in Eindhoven (NL).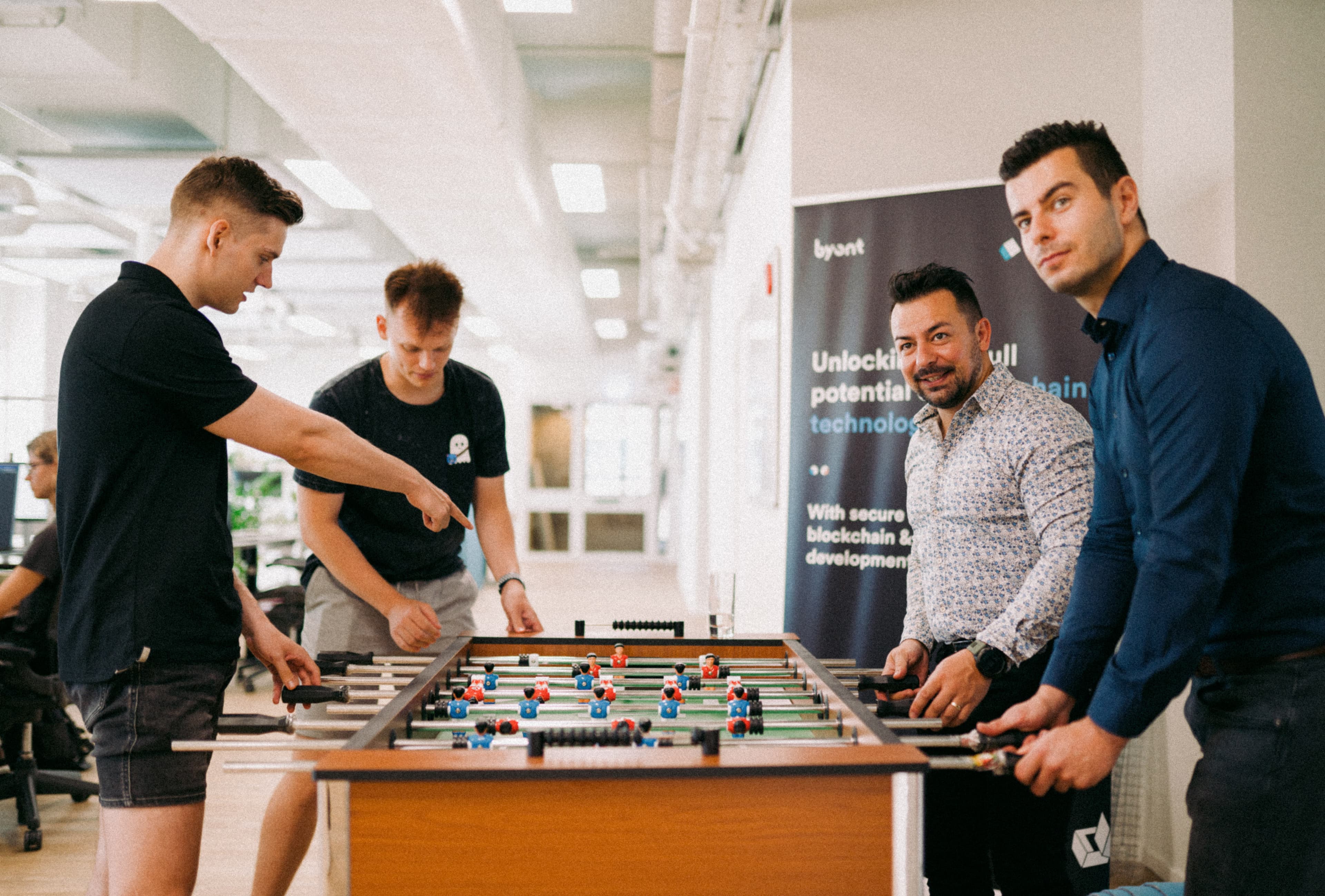 Our vision for the organization
We're building a future where people and organisations alike can excel and spend energy on the things that matter. One based on purpose, self-management, wholeness, evolution, trust, and privacy. The best way to make that possible is by providing leading web3 organizations access to a global, decentralized trust-based network of highly motivated people that excel through constant improvement and autonomy.
People are at their best in an environment with as little hierarchy and bureaucracy as possible. We do everything possible to prevent unnecessary meetings, micromanagers, assessments, boring projects, and endless forms and Excel sheets. Instead, we provide an environment where you get to work on inspiring purposeful projects, learn from each other, and evolve together, all with great facilities, a good salary, growth opportunities, and personal budgets.
By dedicating a significant amount of our time to research, experiments, and write-ups, we apply and create the latest innovations in the ecosystem. We spent the rest of the time working with our clients architecting, developing and securing web3 applications — for example, algorithmic stablecoins that actually work, craft beer brewing DAOs, cross-chain arbitrages, and fractionalized NFTs.
On top of that, we invest heavily in personal and team growth, fun activities along the way, including (remote) Friday drinks and team lunches. We also join blockchain meetups and go to conferences together.
Our values
Self-Steering
We are building an organization with as little hierarchy and bureaucracy as possible. We strive for a robust, resilient network based on trust, collective intelligence, and spread responsibilities.
Collaborative
Helping others is a priority, even when it is not immediately related to the goals that you are trying to achieve. Similarly, you can rely on others for help and advice.
Brave
We embrace challenges and dare to commit to uncertain outcomes. We are eager to learn and actively participate in brainstorms, experiments, and research to build new use cases and accelerate the development of new technology.
Belonging
We work, learn, enjoy ourselves, and rest like a family when and wherever needed. You can always expect to work with the best gear and people, whether you work from our office in Eindhoven or from a sunny remote destination.
Pragmatic & Impact-Driven
We are builders who care deeply about real-world implications and thrive on working with the best people in the ecosystem and working on high-impact applications.
Quality
We strive to deliver the best quality products and invest heavily in automation, optimization, testing, and, most notably, personal and team growth.
Open roles
Engineering
Software Engineer, Smart Contracts
Remote or Eindhoven (NL)
Apply
Software Engineer, Frontend
Remote or Eindhoven (NL)
Apply
Software Engineer, Internship
Remote or Eindhoven (NL)
Apply
Security
Security Engineer
Remote or Eindhoven (NL)
Apply
Open Application
Open Application
Remote or Eindhoven (NL)
Apply